NYC GRP Description
Members commuting to New York City can use up to $300 per year toward qualified rides. Members may use the GRP in the event of an emergency or an unexpected situation.
NYC GRP Region Accordion
When can I use GRP?
Members may use the GRP in the event of an emergency or an unexpected situation. The following are examples of valid reasons to utilize the program:
Medical emergency
Family emergency
Unscheduled overtime
Carpool vehicle breaks down
Carpool/vanpool driver unavailable
The GRP may NOT be used for:
Personal errands or travel
Pre-planned medical or dental appointments
Business-related travel
Non-emergency side trips on the way home
Trips to work
How many rides will I have per year?
Members commuting to New York City will have $40 per individual ride and $300 per year.
How do I request a ride through the GRP?
You can use Local Cabs, Uber and Lyft.
How to request a ride through a local cab or transit?
Take transit or a local cab provider to your destination during an emergency. Individuals who take a cab can use a provider of their choice. Please remember to keep the receipt, as 511NY Rideshare will be reimbursing you for your ride.
Fill out the reimbursement voucher. Members will receive vouchers via email after they are registered and approved for the GRP. Please note that incomplete vouchers will not be accepted.
Mail the completed voucher with your receipt to the address provided on the voucher within 30 days of taking a ride. The commuter will be reimbursed via check for their commute, up to $40 per trip (gratuities are not reimbursable).
How to use Uber for my GRP ride?
To use Uber for your GRP ride, you must add the 511NY Rideshare profile to your Uber account by registering through the link below:
New York City 511NY Rideshare Uber Registration Link
Please allow 24 to 48 hours for our team to approve your account. Individuals will receive an email with steps on how to add the 511NY Rideshare profile to their Uber account. To order a ride, please follow the steps below:
Enter destination
Tap on the profile switcher
Switch to the "511NY Rideshare" profile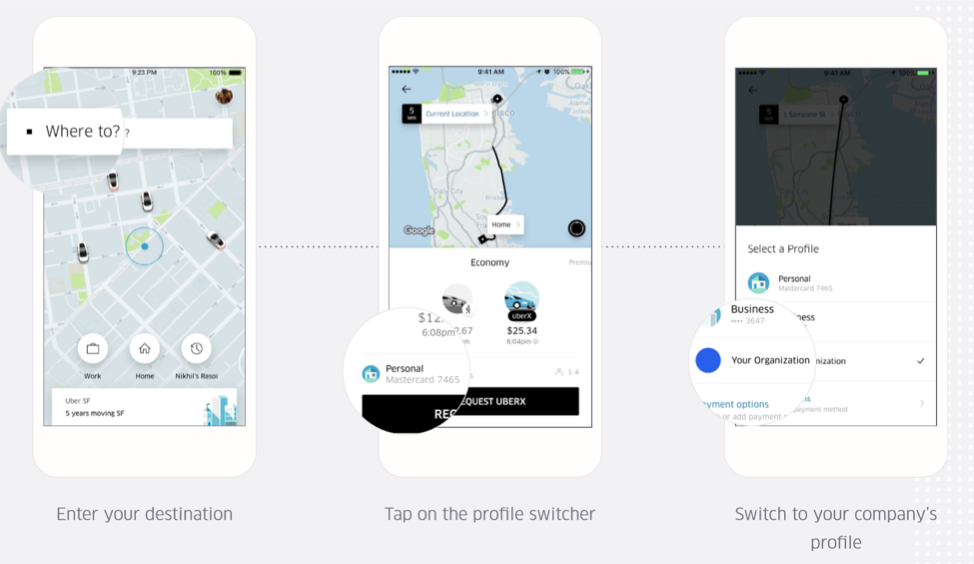 While requesting a ride, members will be prompted to answer questions regarding the reason for their ride, which must be completed to qualify.
How to use Lyft for my GRP Ride?
Call 718-886-1343, Monday through Friday after 6am or before 7pm. Our Member Support team will determine the eligibility of the ride based on the quoted trip cost, reason for the ride and trip location.
Once approved, Member Support will arrange the ride over the phone and provide individuals with the make and model of the vehicle, license plate number and driver name.
Please be sure to note all the details before accepting the ride from the Lyft driver.
Please note all guaranteed ride trips are reviewed to ensure that they follow the program guidelines and are subject to approval. Trip expenses over $40 will be billed to the user by Uber. Through the Guaranteed Ride Program, you still are only able to access $300 in total ride credits per year between Uber, Lyft, taxi and public transit.